It's that time again!
Kids are walking through their new classroom doors after having had a fabulous (or so I assume because how can summer not be fabulous?!?!) summer.
And what better way to kick it off, than with a
Back to School Giveaway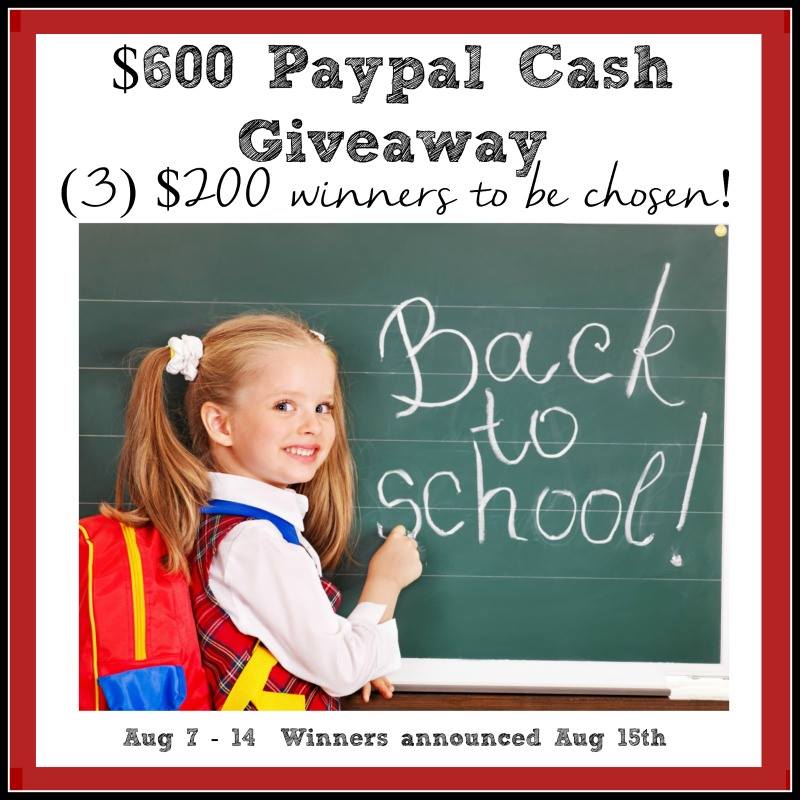 We (several of us bloggers) are giving 3 winners a chance to each win $200.
Wouldn't that be awesome?
You could use the money any way you want?  For school clothes, supplies, last activity or outing with the kids, celebratory dinner or a spa day to help you relax before the school year gets crazy.  It's up to you!  Regardless…wouldn't it be nice to just have extra cash like that to do with what you want?!??!
Well…then…what are you waiting for?  Enter today!
As you can see the Giveaway starts this morning at 8am and lasts until August 14th.
Winners will be chosen, by Rafflecopter, on the 15th.
I'll be sure to post the winner on all social media outlets.
I would like to win some money.  🙂
It would be fabulous, after you enter, if you leave me a comment as to what you would do with the money?  What would be your plan if you won?!?  From those that respond, I will enter you into another drawing for a $20 Starbucks card.  I know!  It's not much. But it would be a nice treat.
So what are you waiting for?
Enter now!
Just so you know…I would use my winnings for a special outing with my sweet Emma. While I could just take her somewhere, and I do take her a lot of places, this would be a special day for us and us alone. Pedicures, lunch, movie and something sweet for her. She's too young for me to spend too much on Back to School Clothes. That will still come in a few years. Who am I kidding…I am sure its right around the corner. 🙂
Anyway…your turn! Leave a comment below if you have time.